Education For Refugee Children
Hamza* is 13 years old and originally from the Deir Ez-Zor region in Syria. His family fled their home after constant attacks, they are now safe in the Al-Hol refugee camp near Iraq. But the war in Syria and interrupted his education more times than he can count. "I went to school for a year (in Deir Ez-Zor) then school stopped," he says.

Constant shelling meant Hazma's school was moved inside the local mosque; then that too was bombed. Hamza was devastated.
We were going to school happy and leaving school happy. The school served us well. We were happy before the bombardment and before it all started.
HAMZA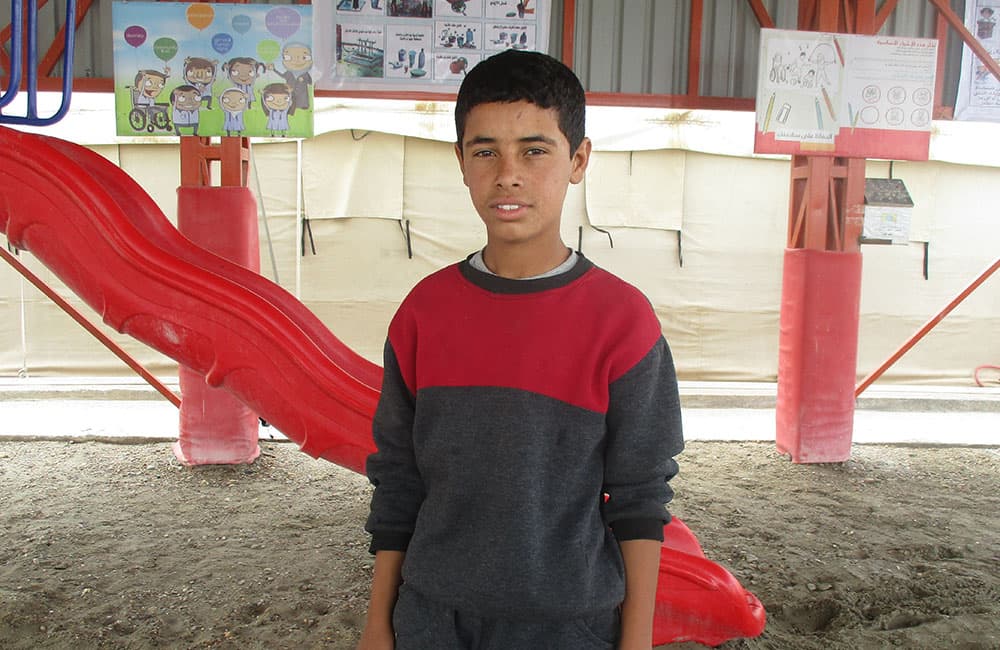 Hamza by the empty classroom he stopped attending six weeks ago due to COVID-19 school closures.

Back to study…for a while
Hamza has been attending a Save the Children Temporary Learning Space since his family landed in Al-Hol. "Our relative told us that there is a school here and I wanted to learn and now we are studying here at Save the Children's school," he says. "They gave us bags and they gave us books. Thank God, we studied, and we are ok now.
Before, I didn't know how to read and write but, thankfully I learned here.
HAMZA
And then fears of coronavirus running rampant through the camp meant schools had to shut down. For over three months now, Hamza has been out of school again. Reliving his previous education interruptions, he acknowledges it has affected him badly. "What changed since coronavirus is that we are afraid of this disease and want to protect ourselves by cleaning and staying inside our homes so that we don't get the disease. Also, the schools and the markets have been closed. We can't move around. We can't even go outside the home [tent]."

Thanks to generous donations from cancerlife supporters, Hamza has been able to keep learning. With our education team on the ground preparing alternative at-home activities and learning packs, Hamza can continue working toward his dream of becoming a teacher.


Hamza studies outside with his new learning materials.

For now, it's been an interesting Ramadan and Eid for Hamza and his family, as they, like so many others around the world, commemorate their sacred month in a very different world. "During Ramadan, we try to forget all about coronavirus. Thank God, we are praying and fasting. Now at home, my siblings and I are learning and doing calligraphy, writing, reading, and whoever finishes get to recite the Quran first."
keep educating children like Hamza.
Donate For Us Now